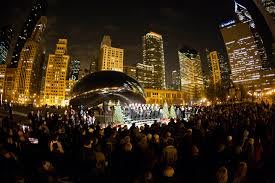 While winter in Chicago is indeed cold and can be unforgiving, there are a lot of things to love about the city in the winter including how amazing the holiday season is in the Windy City. Here are some of our favorite things about the holidays in Chicago and of course, if you are interested in experiencing the holidays in the Second City for yourself as a homeowner, Contact us today.
1. Christkindlmarkt in Daley Plaza and other markets in downtown Chicago and the surrounding neighborhoods are some of the most fun ways to find unique gifts and experience how other cultures celebrate the holidays and Chicago.
2. The Bulls and Blackhawks are both in season, and both teams should be excellent this year. So cheer them on and support your local teams!
3. The outdoor ice rinks are open! Skating with views of the Chicago skyline is a bucket list experience, whether you are a veteran on the ice or a novice.

4. Black Friday and other holiday sales on Michigan Avenue and in our city's many neighborhood boutiques are always incredible - and while we know you can buy basically anything online nowadays, there's something to be said for buying special gifts in person. Bonus go handcrafted and local at the Renegade Craft Fair and other fests focused on handmade goods.
5. The Festival Of Lights Parade is always a great way to start off the season, and seeing the holiday lights make the city glow is fun for adults and children alike.
6. The Daley Plaza Christmas Tree Lighting Ceremony is always amazing, and seeing the gigantic tree all lit up surrounded by the Chicago skyline is borderline magical.
7. ZooLights at the Lincoln Park Zoo are fun for everyone, and it is great to see one of the most remarkable public spaces in the city all decorated for the season.

8. Joffrey Ballet's presentation of the Nutcracker is a holiday classic and Chicagoans or visitors are lucky to have one of the world's finest dance companies call the city its home.

So how are you celebrating the holidays in Chicago? We'd love to share recommendations with our readers and clients.