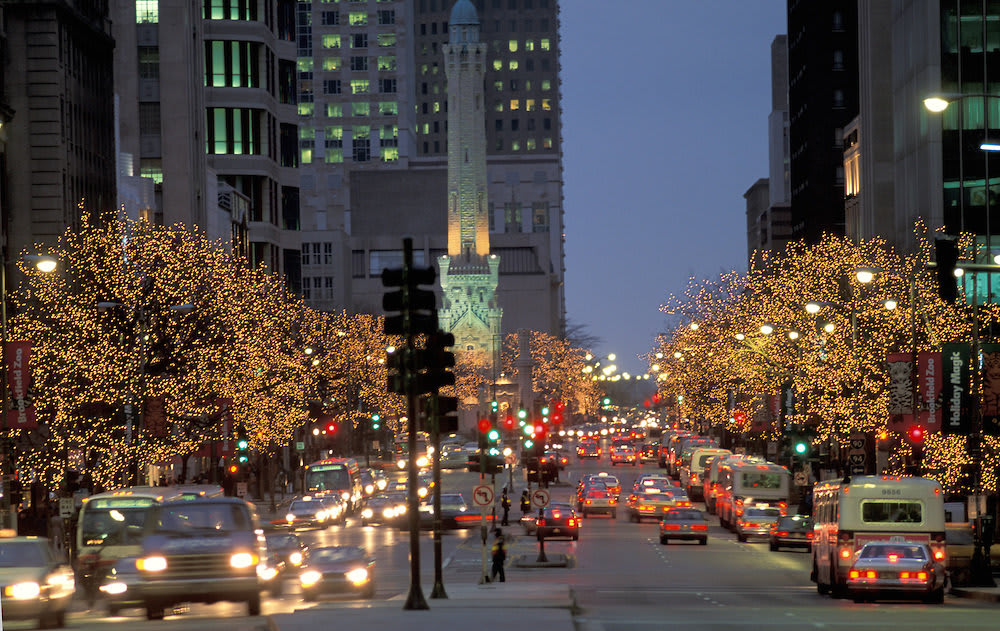 There are so many reasons we love living in downtown Chicago and like all Windy City residents, we have a lot to be thankful for. And not just in the real estate realm (although we are thrilled about the many opportunities in the Chicago market). Here are the top eight reasons we love living in downtown Chicago.
1. The Skyline and the City Lights. Yes, we're cheating a bit by naming two things with one item, but they really go hand in hand. Chicago at night is absolutely magical, especially during the holidays when city is lit up with decorations (literally).
2. Chicago's Dining Scene. Not only do we have some of the best restaurants in the world, we are also home to some of the world's finest grocery stores and we have a wide variety of ethnic restaurants and various unique mom and pop diners. We literally cater to everyone's taste (just as long as you don't put ketchup on your hot dog).
3. World Class Museums. From the Field Museum to the Alder Planetarium, there's no shortage of culture in Chicago. We even have the "" with the Art Institute of Chicago. The fine arts and more are alive and well here.
4. Four Distinct Seasons. While summertime Chicago tends to get all the press, the rest of the year is beautiful too (yes, even the winter). From snowscapes to fall colors to spring flowers, you can enjoy the best of all worlds in the Second City. And there's really nothing like curling with a cup of tea or your beverage of choice in a cozy condo while the snow falls outside.
5. No need to own a car be eco-friendly. Owning a car isn't necessary in Chicago, especially if you live in Lakeshore East. Car sharing, the CTA, and the fact that all the basic conveniences are close by is one of the many positive aspects of living in Chicago.
6. Dogs love downtown. While pets of all kinds are welcome in most Chicago buildings, it is remarkably easy to have a dog (or dogs) in most neighborhoods. You're thankful for being able to give your pet a good home and so are we.
7. City Of Neighborhoods. The fact that Chicago is a city full of unique pockets of culture has been widely published, and it is one of the biggest reasons that many people move to the city. There's always something new to discover and explore; and besides, if you come from another country, you're likely able to find people from your homeland to connect with.
8. We'll Make You Laugh Till It Hurts. Comedy is one of the most important aspects of Chicago's culture considering we are the home of the Second City (where most of Saturday Night Live's comedian's launched their careers), it is hardly surprising that we have plenty of popular comedy clubs where you can see some of the world's most amazing acts before they get famous.
Why do you love living in Chicago? And if you don't live here yet, what are you waiting for? Our real estate team will be thankful to help you find a place of your own in this wonderful city.
Contact us today
.